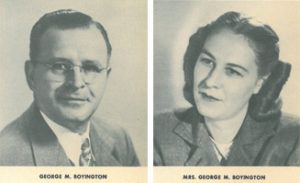 Early in 1941, George and Vera Boyington's dreams became reality when their ingenious Pronto Pup became a nation-wide hit, revolutionizing America's fast-food industry and kicking off the franchise craze.
The Pups are plump and tasty hot dogs on a stick, coated with the special batter and deep-fried to a golden brown.  Most of us have sampled and savored Pronto Pups at carnivals, county fairs and even at main street vendors.  An off-brand version is commonly known to the uninitiated as corndogs.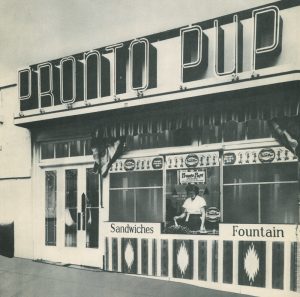 The Pronto Pup made its debut from a fountain shop window owned by the Boyingtons in Portland, Oregon. Right from the start, the tasty treat was a crowd favorite; in September 1941, over 15,000 Pronto Pups were consumed at the Pacific International Livestock Exposition.
Following World War II, servicemen who had sampled and helped build the immense popularity of Pronto Pups while stationed throughout the Western states realized the possibilities in Pronto Pup shops for their own post-war business. Franchises sprung up from coast to coast and Pronto Pups become a national sensation.